When look, feel & performance count, SiTECH is your source for rubber keypads.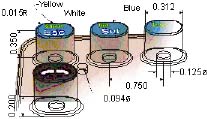 THE APPLICATION GUIDE is an aid in the design and development of silicone keypads and specialty products. Silicone combines excellent feel, reliability and long life in the most rugged environment. Silicone keypads are used in a wide range of applications including medical, industrial, instrumentation and communications equipment.
The Application Guide includes:
Material and Processes
Mechanical Tolerances
Graphics Criteria
Design Recommendations
Drawing Information
Terminology
Silicone material is supplied to the keypad industry in two forms, liquid and gumstock. Liquid silicone is a two part system mixed as it is used; gumstock is a one part system that has a shelf life. Both are heat cured. Liquid silicone has the consistency of vaseline while gumstock is more like putty or clay. Silicone is measured for hardness in a shore A scale. The lower the number, the more silicone there is in the product and the softer it feels. The higher the numbers the less silicone and the more filler there is in the product and the harder it feels. Fillers can reduce elongation, compression set, tear and tensile strength.
There are less than a half dozen manufacturers of silicone. Si Tech uses Dow and GE materials because of their UL listing, six sigma quality rating for consistency and traceability of material batch runs.
Molding silicone rubber varies by process. The tools themselves are very similar and are usually made from P20 steel or 6061 aluminum. Wear on the tooling is usually negligible over the life of a project unless fillers that cause abrasion are added.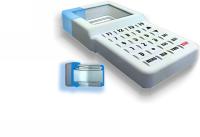 The types of molding processes are liquid, compression, transfer and extruding. Liquid molding is a closed loop system and molded under pressure using computer controlled repeatable equipment. Compression molding is open-air system similar to a waffle iron, material is hand cut and weighed. Transfer molding is a combination of compression molding and gumstock material pushed into a mold under low pressure. Extruding molding uses gumstock molding processes for continuous product such as tubing.
SiTECH's team with over 75 years of experience in silicone keypad design and molding is committed to providing complete customer satisfaction with the highest quality products in a successful and timely manner. The customer is the focus of SiTECH's business.
Silastikey design options include:
Custom Shapes and Surface Finishes
Various Key Travel and Actuation Forces
Wrap Around Designs
Back Lighting, Light Pipes, and Clear Windows
Sealing Features
Insert Molding of Colored Keys, Clear Windows, and Light Pipes
Proprietary Silicone Coatings For:

Abrasion
Chemical
Adhesive
Conductive
Continue to our next Application Guide page: Mechanical Design Considerations