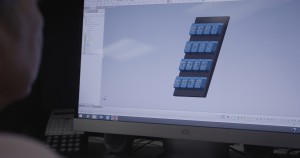 Visually aesthetic graphics can have a large influence on how users feel about your product. A well designed keypad enhances not only the appearance of your product, but can also enhance the functionality of it as well. Below are a few recommendations we frequently give to enhance the design of your silicone rubber keypad, and the graphics you intend to have applied.
One of the most influential aspects of a silicone rubber keypad is the key shape. As users will be pressing your keys frequently, it is important to make them aesthetically appealing to touch. The key design also has a large impact on the ability to apply graphics. SiTECH uses a silk screening process to apply graphics to our molded silicone rubber keypads. The ink we use in our screening process is silicone based, which when cured creates a cross-link bond to the molded keypad. This makes a hard-wearing and long lasting graphic that will last the lifetime of your keypad under normal industry circumstances.
Certain key styles are best for applying graphics, while others are extremely difficult and tend to cause issues and complications during the screening process. The best key design and simplest for molding purposes is a flat key top. Curved surfaces can be printed, but we recommend the use of large radii. This means that concave, and convex surfaces can be implemented into your keypad, and these keys can have the same artwork that a flat key could. Dealing with a compound radius surface is the most difficult and challenging. When designing these types of keys, try to keep them as flat as possible to ensure a good application of the graphic. If the keypad is thin enough, labels can be printed underneath of the keypad to show the artwork through the keypad. This is actually the longest-lasting method of graphic that can be applied to your silicone rubber keypad, as the artwork is never touched after the keypad is assembled.

Here at SiTECH we have the ability to match colors within 1 Delta T. This means if you have a specific color, and are able to provide a color chip we can match it. We use Pantone Numbers to ensure your keypad graphics come out exactly as you planned. We have come across many types of graphics for molded keypads, simple and complex. While the difficulty of your graphic may vary, there are some fundamental concepts which apply no matter what the difficulty.
Applying a high contrast graphic makes your keypad easier to read and find. Keep your fonts simple as these are the easiest to read. Font size is limited by the shape and size of the key. Background colors can be printed to the edge of the key, while graphics will need a buffer zone of no less than 0.015" between them and the edge of the key. Different colored graphics typically must be applied in multiple passes, which increases production time.
At SiTECH we have a vast knowledge and experience dealing with the decorating of silicone rubber and the shape functionality of keypads. If you have any questions or would like to discuss your silicone rubber needs please call us at 757-887-8488 or simply submit a quote online here.