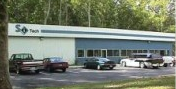 Silicone Technology Corporation (SiTECH) is a competitive U.S. domestic silicone rubber manufacturer located in Newport News, Virginia. SiTECH was formed by key employees in October of 1996. While SiTECH is a fairly new name, the technologies, patents and manufacturing capabilities have been in existence and operational from the early '80s. The key people who developed first surface silicone rubber products started SiTECH. SiTECH and its staff have in excess of 75 years of experience in silicone rubber manufacturing.
How We Make Custom Keypads and Components
Custom keypads are just one of the many products manufactured by Silicone Technology Corp. We use a unique injection molding process with Dow and GE Silicones. With this combination of technology and quality, we're able to offer our customers a competitive domestic source of custom keypads and other silicone rubber products. At SiTECH, our state-of-the-art process assures that complex key shapes, housings and other desirable features are economically produced. Further, Silastikey™ three-dimensional constructions can be combined with proprietary screened graphics to provide unique, application-specific keypads.
About Liquid Silicone Rubber
Liquid silicone rubber is a low viscosity product, which enables it to be injected at relatively low pressures. This translates into excellent precision to meet even the tightest tolerances. Silicone rubber is the polymer of choice for a wide variety of applications. It can be used for most industries, including medical, military, aerospace, construction and marine. Silicone's properties allow it to meet the demands that would cause other materials to fail. Liquid silicone rubber at the molecular level is made of carbon atoms that bond together to give it an extremely strong carbon-to-carbon backbone.
What We Do
At SiTECH, we offer same-day quote responses, engineering support services and job tracking with material traceability. A variety of value-added services is available to bring your product to market quickly and lower overall production cost. Our rapid prototype services can help to bring your design to fruition before a mold is created, and any changes can be realized and done before the beginning of production. Other services include adhesive priming and installation, printed circuit board (PCB) assembly/mounting and glass installation.
Made In the U.S.A.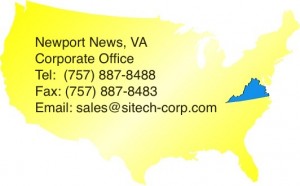 As a Virginia-based business, we can provide our clients with domestic liquid injection molded (LIM) silicone rubber. We are compliant with RoHS, the Dodd-Frank Act, and are ITAR registered. We have an experienced technical and engineering staff, along with the technology to assist you with design, switch interfacing, ergonomics and rapid prototype services.
If you need a quote for an upcoming project or want more information about our rapid prototype or other services, contact our office.