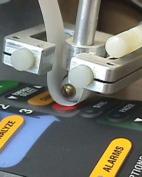 When developing an electronic device that utilizes a silicone rubber keypad, it is important to know how the product will be used. Will the product be used in the medical industry, and require a specific cleaning method with strong chemicals? Is the product going to come in contact with petroleum based chemicals during regular use? These questions may not seem important, but when dealing with silicone rubber, they are.
Unfortunately, cleaning chemicals that use oxidants and chlorine as well as petroleum-based chemicals like lube oil, hydraulic oil, and even WD-40 can damage silicone rubber keypads and components when they are unprotected. When operators come in fingertip contact with oils, lubricants before using keypads on diagnostic machinery, the rubber components can discolor, change texture or lose their shape. Exposed to these chemicals often enough, the rubber components will swell, possibly making the unit inoperable. Frequent washing of the unit is not enough. The residue is still there. Certain cleaning chemicals, when used frequently with the keypad can have adverse effects to the artwork and color of the keypad.
One of the chemical coating systems that we have developed at Si-Tech is called Si Coat II. It eliminates these problems. Si Coat II protects the custom silicone rubber keypads from many different types of chemicals, including petroleum-based chemicals and those containing chlorine, lipids and oxidants. Items like bleach, sulfuric acid and hydrogen peroxide will not damage the surface, helping the product live up to its design. Si Coat II is a relatively inexpensive coating offering a cost-effective solution to extended product life. The coating is silicone based, so it creates a homogeneous bond with the silicone rubber. This is a permanent cross-link bond that increases the flexibility and resilience of the keypad, and leaves a 100% seamless finish for excellent wear protection.
Si Coat II has had proven success in industries such as:
Medical devices
Machine/Tools
Laboratory instrumentation
Industrial equipment
Point of sales
Consumer electronics
Automotive
Telecommunications
Military
Aerospace
So if you have any questions or would like to learn more about the different capabilities of our custom c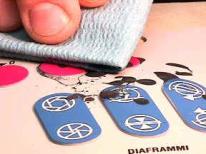 hemical resistant coating or if you need any assistance with your silicone rubber products please contact SiTECH today at 757-887-8488 or CS@SiTech-Corp.com. Our silicone keypads and custom components are created with state-of-the-art technology using only liquid injection molding at our headquarters located in Newport News, Virginia. We are fully ITAR certified and are proud to serve the needs of our customers with products made with the craftsmanship and quality of American professionals