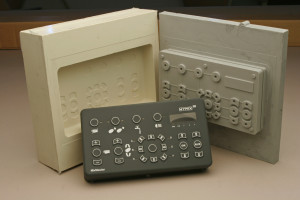 Today, America isn't exactly known as a manufacturing juggernaut. For many economical reasons, the U.S. has become a large import nation in order to keep costs low and prophets high. It only takes a quick glance at most electronics, clothing items, and household products to see that the majority are imported into the U.S. from China, Japan, Mexico, or elsewhere. Despite the fact that the U.S. imports the majority of their products, some items are far better produced right here in the United States. When it comes to creating custom silicone keypads, partnering with a U.S. based manufacturer yields several benefits:
Speed
If you need your product with a quick turn around, it can be better to go with a domestic supplier. Shipping and delivery times will be significantly reduced because of the proximity of the product, as well as the lack of customs hold ups. Foreign suppliers will always have to clear duty/tax payments and other obstacles that could hold up delivery.
Less expensive for smaller orders
If your company is just getting started, or if you usually have a small order number, it may be best to partner with a manufacturer within the United States. U.S. suppliers are able to more effectively create small batch orders without exorbitant fees and shipping costs.
Quality
If quality is an important factor, then staying in the U.S. has significant benefit of being able to personally inspect products and facilities.  Unless you are planning a trip to Beijing, then it will be far more difficult to inspect the manufacturing facilities and the products in person.  Additionally, U.S. manufacturing facilities are held to a stricter standard, which can minimize the potential for complications.
Service
America's real manufacturing advantage may be their ability to offer superior service.  Besides language and culture, manufacturers in the U.S. also offer the advantage of understanding the totality of the supply chain and how the product will impact your customers and constituents.
At SiTECH, we take pride in the fact that we manufacturer all of our silicone keypad components right here in the United States. From design to manufacturing and delivery, we work with you to ensure that you are getting the ideal silicone keypad for your application.  Call us today at 757-887-8488 to discover the benefits of partnering with an American silicone keypad manufacturer.