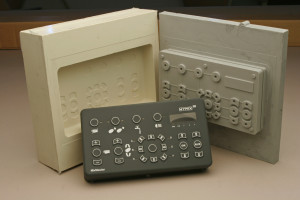 Companies all across the world are looking for quick and cost-effective ways to provide working prototypes of their designs and products. For Silicone components, it is extremely difficult to provide a working part that is aesthetically pleasing without production tooling. Here at SiTECH, we have developed a method that allows us to create Silicone Rapid Prototypes that perform up to 95% of a production quality part. We also have the capability of decorating and coating the part to your desired needs to create an aesthetically pleasing component or keypad.
What is the lead time for a silicone rapid prototype? Depending on the shape, size and details of the prototype, SiTECH can provide an aesthetic and functional prototype within 2 to 3 weeks. SiTECH will work with you to make sure you have your prototype as soon as possible.
Our rapid prototypes are made using a 3D-printed version of your component or keypad. We then create a mold utilizing the 3D printed component. Each mold typically only lasts for approximately 10 runs. This means that if more than 10 parts are needed, multiple molds or multiple cavities will be needed. While the final part is aesthetically pleasing, and the overall functionality of the part is approximately 95%, these parts shouldn't be used for production purposes. The differences are due to the differences and consistencies between an injection molded part and a rapid prototype.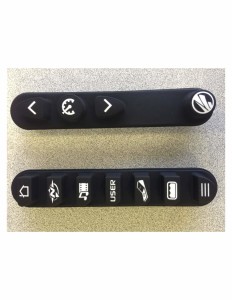 SiTech's rapid prototyping allows companies to visually see any defects or design flaws that may not be visible or capable of being seen during the design process. More times than not, a company will pay for production quality parts, without prototyping there silicone keypads or components. Prototyping is greatly underutilized and can save your company thousands in having to re-work or redesign manufacturing tooling.
Some companies have a need to have a working prototype to actually sell their component or product to a customer. Rapid prototyping your silicone product is a cost effective method of providing an aesthetically pleasing prototype to your customer. Our prototypes can have artwork, specific part colors and the correct coating applied. These end with a prototype part that aesthetically looks like a production quality part for a fraction of the cost.
From concept to manufacturing, Rapid Prototyping is the most cost effective solution for your organization. When getting your product to market on time and within the target cost is important, call on the company that offers the technical support with the engineering experience to deliver your prototype. Call SiTECH at 757-887-8488 or submit a quote online here.