When designing a silicone keypad or component it is important to consider how the tooling will be made as well as how the tooling will affect production. There are some industry standards that can help you with your design in regards to these considerations.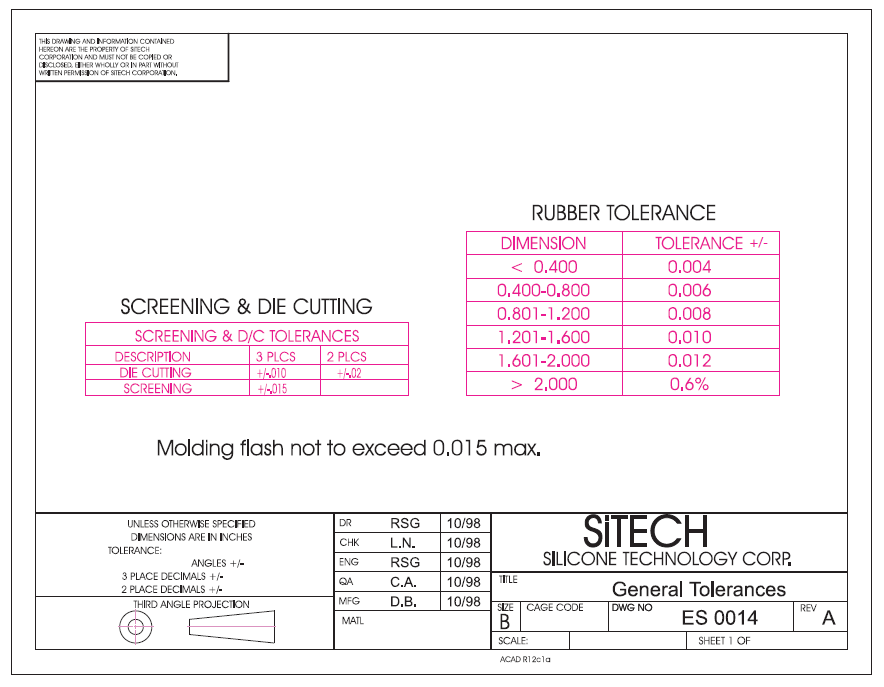 Here are a few guidelines for designing your silicone rubber keypad.
Most corners require a radius.

Tooling is typically made using either an end mill or EDM. An end mill is a circular cutter so corners will have to be a radius. An EDM uses a probe in the shape of the cavity it is going to cut. These probes have to be machined requiring radii in the corners.

Base thickness should be between 0.040" – 0.150" Thick to ensure a stable key press.

If the base is too thin the key will not be able to stabilize and provide a much weaker key press.

Holes or openings within the silicone part require tear plugs which are removed either by hand or tweezers. This means that the smaller the opening the more difficult it will be to remove the plug. Also the smaller the hole, the more chance for residual flash to be left on the part.
The Distance of a keys diaphragm to the edge of a keypads mat, or any other feature should be no less than 0.040".
Keys that are taller than 0.200" typically require a minimum draft of 1 Degree.

Keys that exceed 0.600" will require a minimum draft of 2 Degrees.

The typical web thickness of a key is 0.020" thick.
The standard for air channel geometry is 0.080" – 0.125" Wide by 0.010" – 0.013" Deep.
For plungers, rockers, or conductive pills on the bottom surface of a key, a minimum distance of 0.060" is recommended between the feature and the web structure.
Cavity Marking:

With enough space, addition part identification can be added to the parts. This can be done by machining the part number into the part. It is recommended to not put the revision level of the part onto the keypad. This would be an expensive modification if you were to change a revision letter or number. A solution to this is to use Dots that can easily add up to a specific revision so that each time the revision changes an extra dot is added to the tool. Removable pins can also be used, but these can cause flash issues if not inserted correctly.
Here at SiTech, we have an extensive knowledge when dealing with liquid silicone rubber keypads and components and their molding practices. If you are in need of assistance or would like some recommendations for your design you can contact us here or by phone at: 757-887-8488