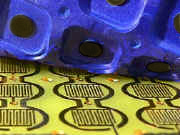 Music legend Elvis Presley released the popular song "Blue Suede Shoes" in 1956. The single featured the famous lyrics "But don't you step on my blue suede shoes" and it was groundbreaking for it's innovative combination of rock and country blues. Today, if you owned a pair of blue suede shoes, you would probably be a bit less concerned about them getting stepped on, this is because of the widespread use of coatings used to protect suede and preserve the quality of the leather. Just like suede, silicone can be enhanced through the use of special coatings; each of which contain specific properties that are revolutionizing silicone keypads!
Protective Coating
Just like blue suede shoes, silicone rubber may need some extra protection from external elements. A protective coating is a formula that is applied over a silicone keypad or other silicone product in order to increase the usable life and durability of the product. SiCoat is an abrasion resistant coating system developed by SiTech for use in silicone rubber applications. This formula protects silicone rubber from degrading, even under harsh circumstances!
Conductive Coating
Conductive coatings offer a cross-link bond to silicone keypad products.  When you need to ensure that your keypads are functioning at their peak, in each and every situation, a conductive coating is a must. Each keypad is made for a unique and specific application and this is why it is important to consider the use of a conductive silicone coating for your product.
Bond Coating
Bond coating is a technological breakthrough that solves the problem of bonding rubber to switches made of polyester. Before bond coating, keypads and switches were bonded mechanically, which is a far more expensive and time-consuming method. Today the bond coating process is far more efficient, simple, and cost effective, making it a must when designing silicone keypads.
In the same way that Elvis innovated a genre of music, SiTECH is innovating the use of coatings, but not for suede, for silicone! Through the use of Protective, Conductive and Bond Coatings, SiTECH has delivered superior silicone keypads to our valued clients in many different industries. The next time you need you need a new a silicone keypad, just remember the classic Elvis tune, its "one for the money, two for the show, three to get ready", now Si-TECH go!