When it comes to designing your keypad, there are some design features that you should consider during the design process. When working with SiTECH, we have a clear design process to follow to ensure that the final product is exactly what you had in mind.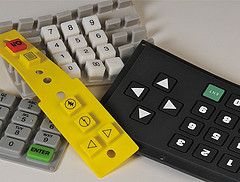 Do's
When it comes to determining a color scheme for your keypad, keep in mind that it's important to use contrasting colors for labeling basic keypad functions. It should be clear and easily understood what the purpose of it is.  Also, function meet design and design meet function. That's an important introduction to make, because if the design is beautiful and it doesn't function – then there's no point in creating it. Here are a few questions to consider when creating your keypad:
Do you have enough buttons
Are there too many buttons
Are the buttons labeled properly
Are the buttons spaced properly
While creating your keypad design, it's important to understand the key shapes and style that you want. And remember, when screening graphics on curved surfaces, it is recommended to have a larger curvature for the radius.
And while it may seem like a simple idea, knowing whether or not you're going to backlight your keypad is crucial prior to production. When a keypad is backlit – the base will have to be translucent. Seems like it would be clear to the team to include this in the design process, but something as simple as outlining the finished product and all of the specs before production can be crucial.
Don'ts
There may be a few more "do's" than don'ts – but here is one that is important. Don't design functions too close to each other. Delicate features can get destroyed or damaged during the production process if they aren't properly aligned or given enough space.  And remember, it's important to consider all of your keypad options, don't limit yourself.
By partnering with SiTECH, you'll have options to create an ergonomic keyboard or keypad design to provide a better end-product to your consumer. Will you need a rapid prototype, this way you can see a finished product before you go into full production and can make any final tweaks or edits?
To learn more about SiTECH and how we can help customize your keypad experience, contact us here.