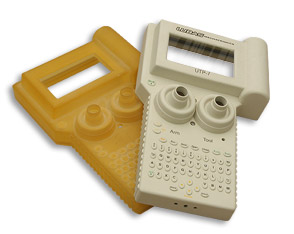 Businesses who use prototypes are able to kick-start their marketing strategies by implementing the rapid prototype. The demand for these rapid prototypes has increased steadily over the years due to the many benefits of having a visual representation of the product in hand. Rapid prototypes can be used to help with design purposes, logistics and marketing within your company, and most importantly, in a cost effective way.
Here at SiTECH we offer silicone rubber rapid prototypes which are significantly faster than production parts. We can create your rapid prototype in as little as two to three weeks, where production parts typically take around ten to twelve weeks to obtain. Our rapid prototypes have a detail quality of greater than 95% of your final product. These prototypes are not meant to be used in the field, but can help you to better visualize your product; what it can do, how it looks and interacts. They can be used in hands-on beta testing and real-time comparisons. Our silicone rubber prototypes can also be used for: reduced product development, costs design validation, marketing strategies, and form, fit and function analysis. If you're wondering how your idea will match up to the existing mechanical parts, let our SiTECH engineers use our rapid prototyping rubber process.
Another thing rapid prototypes are extremely helpful with is design validation. When designing your product, it is extremely helpful to hold parts in your hand, especially when considering form, fit and function. While software is available to ensure your parts will fit together, sometimes it is just better to feel exactly what your part will feel like and how it will fit together with other components. If your product requires a custom shipping container, rapid prototypes allow you to finalize your shipping designs before your final product is even completed. Our silicone rapid prototypes give an excellent detail quality. Perfect for any business that is looking to show off their product at trade shows, presentations or even in market analysis.
At SiTECH we use the customer provided solid model to create a silicone rubber prototype. When you want to see it and touch it and feel it before you have to use it, SiTECH can make it. To discuss the many options and features we have to offer for your silicone custom products, call us at 757-887-8488 or use our contact form to request a quote today.