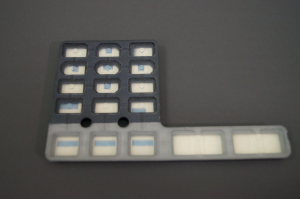 Silicone rubber keypads and components can be used for countless different applications. Whether your needs are in the industrial, medical, military or other industries, consider Si-Tech for your silicone rubber needs. We manufacture keypads, seals, gaskets, display windows and other specialty silicone products. At Si-Tech, we use only liquid molding machines on a closed loop system, with Dow and G.E. silicones that provide maximum quality at an affordable price. We offer many capabilities that are not well known that could help when designing a future project. Instead of going for just a simple keypad molded in all one color, you can make your product stand out from the competition by using insert molding for dead fronts, LEDs, backlighting, and silicone rubber display windows in your keypad.
What Is Insert Molding?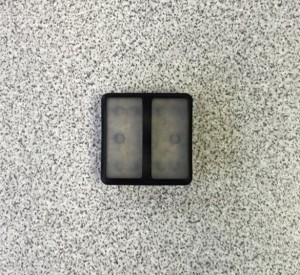 Insert molding is a process that Si-Tech uses to isolate light and prevents it from transferring from one location to another. Si-Tech's insert molding process is achieved using a double-shot process. The first shot is to mold the clear insert for any combination of display windows, backlighting, dead fronts and LEDs. In a second shot, the clear insert is placed in the final mold and silicone is shot around the inserts in the desired color, creating a crosslink bond between the silicones. This leaves only the backlit portion, windows or LEDs in clear silicone, and the rest of the silicone rubber keypad or component in whatever color you choose. The insert molding process gives you peace of mind by not having to worry about leaking light. It also offers versatility for many new designs that molding a part in all clear silicone rubber does not provide. One example of using insert molding for a new design that you cannot make by molding in all clear is having two different light sources in one key of the keypad, as seen in the picture to the above right (one key to a keypad). This allows you to be able to use a combination of a dead front, LED, backlighting, or display windows in one key by using two inserts for one key.
Why Blocking Light Is Better With Modern Technology
While you may be thinking that the capability for those features have been in use for a long time and that most silicone rubber manufacturers can produce the same features, Si-Tech uses an insert molding process that fully blocks the light from being able to transfer from one light source to another through the silicone keypad. Most traditional backlit parts are molded in all clear silicone; then sprayed with the desired coating and lasered to create the backlit rubber keypad. This process leaves the buyer trying to come up with several different ways to block the light from traveling to another key. This is an outdated process that is ineffective, because even if you block light so that it is only passed to a certain key, light is still able to transfer through the silicone from key to key because the part is molded in all clear.
Contact Si-Tech today at 757-887-8488 or CS@SiTech-Corp.com to learn more about the different capabilities of insert molding or if you need any assistance with your silicone rubber products. Our silicone keypads and custom components are created with state-of-the-art technology using only liquid injection molding at our headquarters located in Newport News, Virginia. We are fully ITAR certified and are proud to serve the needs of our customers with products made with the craftsmanship and quality of American professionals.