In planning production of components or keypads, the material and production method used are important factors to consider. Liquid silicone rubber combined with the method of silicone injection molding proves to be the most effective method of rubber production. Whether it be a short life or long-term product, injection molding is the most cost effective and accurate method and lends itself well to most manufacturing projects.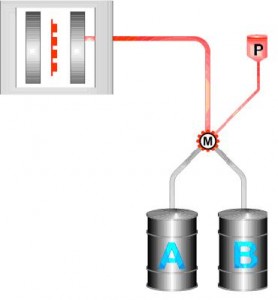 The raw material is divided into two compounds. One compound has a platinum-based catalyst to ensure proper and efficient curing. The second contains a crosslink to ensure proper mixing and extend the life of the mixed silicone. The silicone is dispensed into a water-cooled barrel and is metered for an accurate shot size. When colored parts are needed, a custom silicone based pigment is made in-house to exactly match any color needed. The pigment is injected into the silicone at the point the two silicone compounds are introduced.
Liquid silicone injection molding is an excellent option when extremely tight tolerances are required. This is achieved because of liquid silicone's inherently low viscosity, allowing it to be injected at relatively low pressures. This production method is also very clean; it is a fully-enclosed production method, helping to avoid debris and contamination. Injection molding has short cycle times, reducing overhead costs and fulfilling large volume projects.
Silicone is an excellent product to work with when designing complex shapes and undercuts into your part. It is a superior elastomer; because of its extreme tensile strength it can be stretched out of deep grooves without ill effect. This is due to its strong carbon backbone, allowing for superior wear and abrasion resistance. Undercuts allow for tight sealing and making your component even more resistant to most elements, helping to extend the life of your product.
Custom silicone molding can be screened with a wide array of images and designs, helping your product stand out. All inks used are proprietary and made in-house to ensure the highest quality. They are silicone based to provide a permanent crosslink to the part being printed. Once decorated, a proprietary silicone spray is coated onto the part to further protect it from abrasion and providing a clean matte finish.
At SiTECH, we specialize in all things silicone. We use the latest injection molding technology combined with the expertise to operate them. All of our silicones are purchased exclusively from Dow and GE. We custom make all our pigments and inks in-house. There are a variety of sprays we produce to fit any of your product needs. We even offer many value added services to reduce the production cost and time of your project. With the knowledge and expertise to meet all your silicone rubber silicone rubber molding needs, from small to large volume jobs, you can trust the experience and reputation that SiTECH has to offer.