Silicone combines excellent feel, reliability and long life in the most rugged environment. Silicone keypads are used in a wide range of applications including medical, industrial, instrumentation and communications equipment. While designing a new silicone rubber component or keypad it helps to use the fundamental rules of dimensioning and tolerancing, as well as some general recommendations for mechanical design. We have put together a short guide highlighting the key mechanical design considerations to help you in the process of developing silicone keypads and specialty products.
Mechanical Keypad:
Distance of a key's diaphragm to the edge of the keypad's matte and any through hole is 0.040″.
Minimum key pitch dimension is 0.080″.
Distance between two diaphragms is 0.040″ (measured at base of diaphragm).
The smallest blend radius of key's side wall to top of key is 0.010″.
Typical key taper is ³ 1° depending on key height.
Typical chamfer dimension on a tactile keypad is 0.020″.
Typical chamfer angle on a tactile keypad is 45.
Clearance between a bezel to a key is 0.012″.
Typical base (matte) thickness is 0.040″.
Standard air channel geometry is 0.080″ to 0.125″ wide by 0.010″ to 0.013″ deep.
Conductive contact area is 0.030″ based on keypad application and size.
Sealing bead(s) top and/or bottom for environmental design requirements.
Assembly aids via rattails and/or perimeter lip to hold rubber keypad to feature:

Through hole diameter is 0.025″.
Corner radius on matte and key's 0.015″.
Display/ LED lightpipe/ Window opening:
Maximum depth of undercut for feature window opening is 0.250″.
Underside lip for window opening is the depth of undercut(#14) x 0.660″.
Minimum size for molded in silicone window/lightpipe is 0.060″.
Minimum thickness for molded in silicone window is 0.030″.
Minimum height for molded in silicone lightpipe is 0.030″.
Minimum distance from window/lightpipe to and edge is 0.030″.
Min / Max. wrap around underside is 0.060″ to 0.500″. Deeper wraps may be considered depending on design.
Sealing rib diameter is 0.030″.
Keypad Wrap – Around Design:
The wrap-around design offers unique capabilities in silicone rubber. Using liquid injection process, one can create hand-held units similar to complete plastic cases. With the wrap-around feature, an appealing product can be designed with all the protection requirements for harsh environments.
Typical Part Tolerances: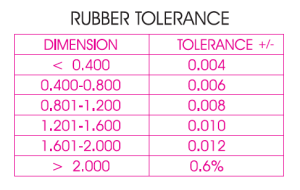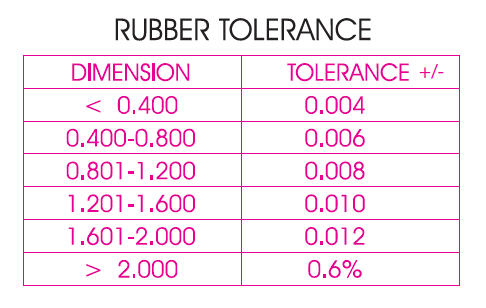 SiTECH's team, with over 75 years of experience in silicone keypad design and molding is committed to providing complete customer satisfaction with the highest quality products in a successful and timely manner. The customer is the focus of SiTECH's business. We are locally owned and operated. We manufacture all silicone components in-house. Call us at: 757-887-8488 to speak with one of our Engineering staff about your custom silicone keypad or component, or use our contact form to request a quote today.