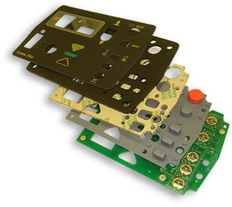 Without great materials, even the best product designs will fall on their face during manufacturing and testing. At SiTECH, we take pride in using the absolute best raw materials for custom keypads and other products. We never take the easy way out, that is why we use only the highest quality Dow and GE liquid silicone in order to ensure that your products stand the test of time.  So how do you know if liquid silicone is right for your product?
Quality
If you want true quality in your next product, then your should definitely be considering liquid silicone. In contrast to high consistency rubber or gum stock, liquid silicone rubber is made of two parts. An A and a B. Both parts are a liquid, but only one part contains the catalyst which is typically platinum. This method of molding provides a "closed-loop system" which basically means that the raw silicone is sealed from the moment it is placed on the machine, until the moment a silicone rubber product is made. This helps keep contamination to a minimum. Lowering the amount of handling of the silicone rubber also decreases the chance of contamination of the silicone components. This means that your product is less likely to have defects and imperfections.
Custom Features
In many ways, liquid silicone is only limited by the imagination of the engineer or product designer. No matter what industry you are creating a product for, liquid silicone can be customized and molded to accomplish the task. Whether you need back-lit keys, chemical resistant materials, custom colors, or other features, SiTECH has got you covered. Other forms of silicone, such as gum stock, have limited options when it comes to customization.
Versatility
One of the main advantages of liquid silicone is its versatility. No matter what industry you are in, there is a good chance that liquid silicone is already used to make countless products. The material is safe enough for medical use, strong enough for military use, and its legendary reliability has made it a good choice many other industries including, automotive, aeronautical, and so many more.
Silicone Technology Corp. is headquartered in Newport News, Virginia. We use a unique liquid injection molding process with Dow and GE Silicones. This combination of technology and quality offers you a competitive domestic supplier of custom keypads and other silicone rubber products. If you want to find out more about what makes SiTECH different from our competitors, give us a call today at 757-887-8488.