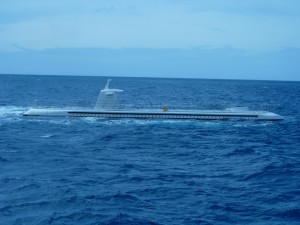 Submarine technology has changed drastically over the years. With it has changed the layout and the specifications that parts must meet inside and outside of the vessel. Size, structure and capabilities have also changed. The vessels' designs fluctuate as new technology is implemented into the latest military submarine model classes. As a result, the need for high quality military silicone rubber manufacturing has grown, and so have the capabilities for implementation.
Embracing Technology
New technology with electronics has made function control and communications easier. Military keypad manufacturing has evolved as well, making it possible to control an array of devices from fewer panels. The reliability and cost effectiveness of molded silicone rubber products within the vessel helps to keep components watertight and fully functional.
The Comfort of a Click
In some cases, the submarine may need to go quiet. Creating machinery for silent onboard operations requires special properties. The use of military rubber keypads enables crew members to operate a variety of equipment modules on the sub in both normal and silent conditions. When the keypads are made with molded silicone rubber, they lessen the sounds made by the impact when the buttons are pressed. The durometer, or hardness of the silicone rubber, has an effect on the sound produced. The snap ratio, which is the sensation of pressing the buttons, is silent without completely eliminating the movement and feeling associated with pressing the button. This can be critical when it comes to important tasks, such as data entry, activating doors to compartments or activating sonar while on deep sea assignments.
Humidity
The environment on a sub is unlike that of any other vessel. One of the issues encountered in submarines is the high humidity level. Because the vessel is essentially sealed to allow it to go deep underwater, the humidity levels can rise. Humid conditions can wreak havoc on certain types of materials, like metal or wood. They rust or absorb the moisture unless they are specially treated. This affects the material's surface and structure. Military keypad molding made with molded silicone rubber is water-resistant. It's more effective than wood or metal devices and lasts much longer.
Meeting Design Specifications
One reason that military keypad molding on submarines is so effective is because it can be made to very tight tolerances in a variety of housings, shapes and colors. Designs with backlighting, for example, make it easier to see in a darkened environment. An experienced military silicone rubber manufacturing company can follow all specifications and meet short production time constraints while meeting limited budget restrictions.
SiTECH is based in Virginia and complies with all International Traffic in Arms Regulations (ITAR) requirements. We make quality military rubber keypads and molded silicone rubber products to exact specifications for submarines, ships, aircraft, spacecraft and land vehicles.