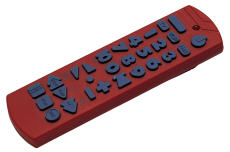 Over the past 15 years, the uses for medical rubber molding have grown dramatically as healthcare technology has improved. It's durable, easy to clean and lightweight. It can be molded into nearly any shape and can withstand the rigors of everyday life, as well as the healthcare environment. Here's a look at how silicone rubber molding is being used in medical devices and mobility transport in 2014.
Medical Devices
Liquid injection silicone rubber molding is becoming the preferred material to use in medical devices over latex rubber and conventional rubber. Silicone rubber molding can be used in medical devices to prevent friction between metal or plastic parts and improve hand grip for those using the devices. It doesn't cause the allergic skin reactions associated with latex, and it's much more durable than conventional rubber. Silicone rubber molding can withstand extreme temperatures of up to 450 degrees F, as well as moisture, so silicone rubber components can be sterilized in an autoclave. According to the Journal of American Dental Association, steam autoclaves can run with a pressure of 15 psi at 250 to 275 degrees. Dry heat temperatures in rapid flow autoclaves can reach up to 340 degrees.
Assistive Devices
One of the most dramatic changes has been in the use of devices used for orthopedics. Where people used to be relegated to using wheelchairs and walkers, they are now receiving more advanced medical treatment. Knee and hip replacements, physical therapy and pain management have made it easier for athletes and senior citizens to maintain their mobility through the use of crutches, canes and walkers. Those still using wheelchairs are also finding better technology to help them get around. According to the National Institutes of Health, (NIH), 2.2 million people in the U.S. use wheelchairs for mobility, and 6.5 million use crutches, walkers or canes. Carefully designed silicone rubber parts are used as, among other things, anti-skid end caps on canes and walkers, and as lightweight yet sturdy hand grips on canes, walkers and wheelchairs.
Transportation
The growing use of mobility vans and lifts to help those in wheelchairs become more independent isn't the only change in the industry. Custom van conversions to accommodate wheelchair users includes the use of silicone rubber keypads to remotely activate ramps and lifts for drivers and passengers alike. This enables people to participate in more mainstream activities, such as driving, working and going shopping at the mall. Custom rubber keypads activate everything from doors and platforms to stereos and steering wheel controls.
The Kenguru ® , an electric technology car built especially for wheelchair users, has emerged in the U.S. The compact vehicle is just seven feet long and five feet tall. It has no seats, but that's a perfect design for those in manual or motorized wheelchairs. The driver enters through the rear hatch door and rolls right up to the steering wheel. Injection molded silicone rubber parts are used as gaskets and molding. The vehicle is designed for city driving, reaching a maximum speed of 25 miles per hour. With eco-friendly power, it can travel up to 60 miles on a single charge. The Kenguru should be available for purchase in the U.S. in the summer of 2015 with a price tag of about $25,000. Tax breaks for mobility and energy are expected to substantially bring down the actual cost.
At SiTECH, we can manufacture a wide range of medical rubber keypads and molding according to your specifications. Contact us to learn more about how we can provide your company with components for your medical devices and custom rubber keypads.