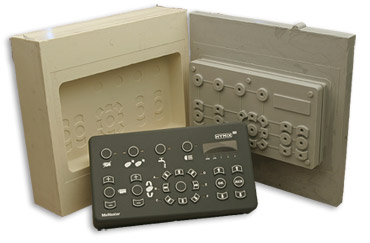 When developing a custom silicone molding component, many factors need to be considered. Prototypes can help simulate the interworking of the device. In the development and testing stages, a prototype helps to ensure proper dimensions for an exact fit. Prototyping can help sell your product while still in the testing stage. When used for sealing, prototypes can help ensure a tight, exact fit, avoiding costly changes later.
Establishing the Size
The first step in the production of a prototype is the review of the dimensions of the component being produced. A stereo of the part is required to produce a high quality accurate prototype. One of the methods to create a stereo uses 3-D printing, called stereo lithography. It is an additive manufacturing process which employs a vat of liquid ultraviolet curable photopolymer and an ultraviolet laser to build a part one layer at a time. In each layer, a laser beam traces a cross-section of the part pattern on the surface of the resin. Exposure to the ultraviolet laser light solidifies the pattern traced on the resin and joins it to the layer below.
Creating the Details
Once a stereo is received, we use a specialized polymer to create a tool to produce the actual components. Much attention to detail is required to accurately produce the final part. Our proprietary method of mold production helps ensure an accurate representation of the component. The resulting mold can produce quality silicone components quickly and accurately. We use the highest quality raw silicone rubber and can add color to fit a need. Backlight components can be molded clear and sprayed a variety of colors to match the product being produced.
A rapid prototype can provide a quick glimpse of your product while a production plan is put in place. They also reduce lead times, especially when changes are needed, helping avoid expensive tool modifications later. Prototype lead times are approximately two to three weeks, depending on the complexity of the product.
Value-Added Services
At SITECH, we offer a variety of additional services to make your prototypes look and function exactly like the custom silicone molding production part would. Screen printing, using silicone based inks, provides a permanent bond and helps your product stand out. Adding a proprietary silicone based spray, for abrasion and/or chemical resistance, gives your product a long durable life. Carbon conductive can be added to allow the prototype to perform all functions of the final product. We can also assemble your component onto a printed circuit board, helping lower overall cost and reduce production time. From the design phase to implementation, we can help with all of your silicone rubber molding needs.