When designing and implementing a silicone rubber product for production, many companies are requiring their products to be compliant with the RoHS directives implemented by the European Union. RoHS was originally implemented in 2003 and the latest directive 2011/65/EU was effective January 2, 2013. RoHS is short for Directive on the restriction of the use of certain hazardous substances in electrical and electronic equipment.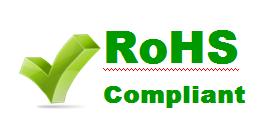 The RoHS directive restricts the use of certain hazardous substances in electrical and electronic equipment. Silicone rubber keypads, buttons and gaskets are components of many different types of electronic and electrical equipment; therefore it is important that the silicone and pigments used are in compliance. RoHS Directive 2011/65/EU restricts the use of Mercury, Lead, Cadmium, Hexavalent Chromium: Cr+6, Flame retardant PBB and PBDE.
RoHS and similar efforts have helped to reduce hazardous materials in electronic components. Because of the speed on newer technologies, electronic components are being outdated at ever-growing rates, leading to the global issue of electronic consumer waste. These restrictions will lead to less hazardous and therefore recyclable materials, as opposed to, waste.
High quality silicone is compliant with RoHS regulations because it is not mixed with any fillers or by-products. This is one of the main reasons silicone has gained popularity in a variety of industries, with the medical industry almost exclusively deciding silicone is the material of choice. At SiTECH, we also provide a certificate of compliance certifying our silicone rubber components produced meet all required specifications.
SiTech uses only the highest quality silicone and inks to manufacture rubber keypads, buttons, gaskets and components. SiTECH has obtained RoHS compliance certificates from DOW and GE for the silicone materials that SiTECH uses for manufacturing, as well as from our pigment and ink suppliers. Compliance is required in order to be competitive in the international marketplace.
At SiTECH, we use the highest quality silicone and pigments available for every silicone rubber product we manufacture. We offer a variety of value added services to help bring your product to market quickly at lower cost. We are a domestic supplier and are ITAR registered to handle all defense articles. All silicone components are produced in-house using the latest in injection molding technologies. From design to production, SITECH can help fulfill your production needs.