The rise of ATM and Mobile Banking and what it means for the banking industry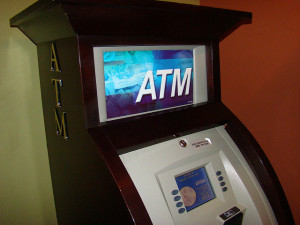 Have you stopped by to see your local bank teller recently? Chances are that you haven't. Due to changes in technology and a move toward efficiency and convenience, the banking industry is transitioning away from the traditional teller role. In fact, the bank teller as a profession has been on a steady decline of -8% year over year, according to Bureau of Labor Statistics.
With the rise of the ATM, and more recently mobile banking, there is rarely a need to wait and talk to a teller. Today if you need fast cash, you don't even need to step out of your car. Looking to deposit a check? It's as simple as a few snapshots on your smartphone. With these sweeping changes in place, custom silicone keypads have become and important part of helping the banking industry evolve.
"Four in 10 Americans haven't visited a branch in the last six months," according to a recent Bankrate Survey. If you are one of those four Americans, you may be surprised the next time you walk into a physical branch. In an effort to make physical banks safer, convenient and efficient, even many traditional banks are going digital. Many branches are adding technology by utilizing kiosks or video ATMs that provide the opportunity to chat with a remote teller. According to Bankrate, "one bank in Switzerland has installed an automated safety deposit system that allows customers to check their deposit boxes without ever talking to a live person."
With all of these new features being tested and installed in bank branches, the new technology will have to provide high quality solutions if "no-teller" banking is going to become a reality. With the use of kiosks, ATM's, and other banking hardware, custom silicone keypads have become an important part of the user experience in today's banking world. With silicone keypads, designs can be tweaked in a number of ways including:
Custom Shapes and Surface Finishes
Various Key Travel and Actuation Forces
Wrap Around Designs
Back Lighting, Light Pipes, and Clear Windows
Sealing Features
Insert Molding of Colored Keys, Clear Windows, and Light Pipes
At SiTECH, we've had the privilege of creating silicone keypads for many new banking innovations. With the durability, reliability, and customization of silicone products, new technology can effectively transition banking into a digital-first industry. The next time you punch your pin into an ATM, think SiTECH.