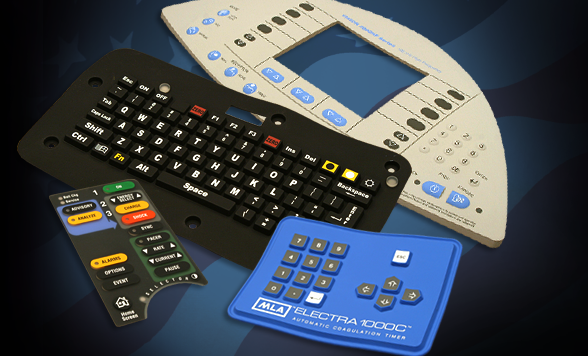 Silicone rubber is widely known as one of the most versatile and durable materials. It's no wonder that so many components are being made with silicone these days. Engineers are constantly developing new ways to incorporate silicone into designs in order to make products more efficient and reliable. Silicone elastomers were developed in the 1900's and have been steadily increasing the number of products they are in ever since. With silicone on the rise, you may be interested to know more about the types of silicone. That is why we compiled a summary of the most popular silicone varieties.
Fluorosilicone Rubber
Fluorosilicone rubber is a very popular rubber in the silicone family. This material is commonly used in the auto and aerospace fields. It finds a nice home among engine and machinery components because it is so compatible with oil and lubricants. Due to its chemical makeup, Flurorosilcone is often used in 0-rings and gaskets to act as a seal for engine areas. One area where Fluorosilicone fails to measure up is its resistance to heat; an area where liquid silicone excels.
High Consistency Rubber (Gum Stock)
High Consistency Rubber (HCR) is a type of silicone that has the consistency of a thick putty or dough. It is often used in compression molding by placing the silicone into an open-air molding press to form products. This process is fairly labor intensive compared to Liquid Injection Molding, especially when you are creating a product that requires specific customization.
Liquid Silicone
Liquid Silicone has a consistency similar to petroleum jelly and it is made using a two-part system that is mixed as it is used. Liquid Injection Molding makes it much easier and less expensive to create custom features.  At Si-Tech, we use silicone injection molding for all of our customers because it offers many distinct advantages including long-term durability, affordability, and a very quick turnaround time.
SiTECH is a domestic silicone rubber manufacturer located in Newport News, Virginia. We do everything from custom silicone molding to assembling parts in-house. At SiTECH, we have more than 75 combined years of experience with liquid silicone injection molding. Contact us at (757) 887-8488, or request more information or a quote on our home page, www.SiTech-corp.com.