Here at SiTech, we offer a variety of coatings for our custom molded silicone keypads and components. We have five standard coatings, as well as custom silicone based color coatings. These coatings include: Si Coat I ™, Si Coat II ™, Si Coat V ™, Si Coat 30 ™ and Si Prime. Our coatings provide abrasion resistance, chemical resistance, adhesive primer, conductivity, and extra protection.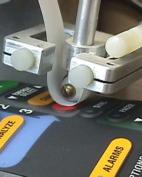 We developed Si Coat I™ to be an abrasion resistant coating. As well as providing a wear resistance, Si Coat I™ provides a smooth matte finish that helps your product stand out. It also helps repel dust and can reduce clean-up time. Our proprietary abrasion coating surpasses the industry standard by more than twenty times the standard acceptance criteria.
Our chemical resistance coating, or Si Coat II™, is another proprietary coating that provides chemical resistance against part swelling, absorption, and wear that could be brought on by harsh chemicals or environments. Si Coat II™ works effectively for situations requiring silicone rubber to have protection against petroleum-based products as well as chlorinated and oxidizing chemicals. When harsh chemicals are a concern, Si Coat II™ provides a cost effective solution to extend the life of your silicone molded keypads and components.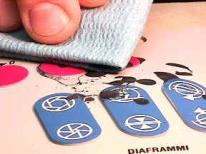 When your custom silicone keypad requires conductive pads, Si Coat V™ is your economical solution. Si Coat V™ is a proprietary conductive coating that when applied, offers a homogeneous cross link bond to our silicone keypad products. This coating provides long-term wear resistance, as it has passed testing of over one million actuation cycles with little to no increase in resistivity.
Another proprietary coating we use here at SiTech is Si Coat 30™. This coating is a clear silicone based coating that provides another layer of protection between the molded silicone component, and the final coating (Si Coat I™ or Si Coat II™). When extra protection for your silicone components or keypads is required, Si Coat 30™ is the solution.
One of our final coatings, is Si Prime™. This coating is designed to bond silicone keypads and components with acrylic adhesives that are typically used in the membrane switch industry. Si Prime™ offers the highest silicone rubber to surface bonding that increases with time. The coating has an excellent humidity resistance, and is resistant to solvents. Si Prime™ offers one of the best solutions to bonding silicone rubber to polyester switches, and provides an economical solution compared to mechanical means.
SiTech has the capabilities to provide your coating needs. If you would like to learn more, or wish to speak with an engineer about your specific coating needs, please call us at 757-887-8488, or submit a quote here.