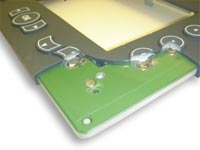 It's a fact of life – we all have people that we rely on for certain things. When your vehicle breaks down, you expect the mechanic to be able to fix it. When you're sick, you trust your doctor to prescribe the right treatments to get you back to health. It goes without saying that we have come to expect a certain level of support from friends, family, businesses, and the other sectors of society that we count on. Occasionally however, our expectations are exceeded when we receive a level of service and support that is above the call of duty. At SiTECH, we've designed our company to deliver that type of service –  to not only meet the needs of our customers, but to exceed them.
Our flagship product has always been the silicone keypad, but we've been keeping our ears open to our customers to see how we can serve them in new ways. As a result of this, we have expanded our facilities to take on the ever-growing requests from our customers to manufacturer a complete keypad assembly. We are now offering the option to order your silicone rubber keypad with a printed circuit board, metal domes, polyester domes or membrane circuit thus reducing your time on managing the various sub-assemblies to make your keypad assembly. By doing this, our goal is to offer a one stop shop for many types of keypads. Keypads come in many shapes and sizes, with multiple options and design considerations in order to meet a specific application. Regardless of what industry you are in, we want to make the process as seamless as possible.
In addition to offering the products that you need, we also offer sales and technical support, application support for your industry, and technical solutions. Our experts are knowledgeable, friendly, and available when you need them the most. These are just a few ways in which we are trying to go above and beyond for our customers! The next time you need a silicone keypad for your product, we hope you will think of SiTECH!