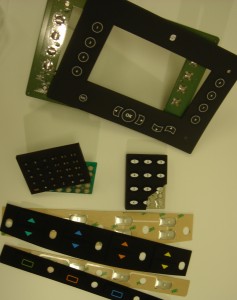 When designing and choosing a supplier for silicone rubber, an important aspect to consider is the concept of value added. Value added can be defined as the difference between sale price and production cost of your product. In the manufacturing sector, a value added company has the ability to perform a variety of tasks to cut down on the number of suppliers involved to manufacture your device, thus reducing the overall price to manufacture. Some additional benefits of fewer suppliers being involved are; less logistical planning is required, change requests are easier to implement during production and your product can make it to market quicker.
At SiTECH, we offer a variety of value added services to enhance the performance and functionality of all of your silicone rubber needs. One of the proprietary products we generate is Si Prime™. Si Prime™ is a coating system specifically designed for bonding silicone rubber to a variety of different surfaces with common acrylic adhesives. Si Prime™ serves as a bonding barrier between the silicone rubber molding surface and an acrylic adhesive. It has an excellent high range of operating temperatures, and high humidity and solvent resistance. After being applied, a double-sided adhesive can be mounted to the custom silicone component and attached to any number of surfaces.
We also offer a variety of proprietary sprays to fit your product needs. SiCoat I is a silicone-based spray designed to offer unparalleled abrasion resistance and a clean matte finish. SiCoat II offers similar protection and appearance with a protection against petroleum-based products. Both sprays provide seamless coating, even for irregularly shaped silicone rubber molding components; can be applied over graphics and colors, repel dust and have a homogenous crosslink for a permanent coating. There is no need to worry about chipping or peeling, since the products have a seamless chemical link to each other.
We also offer the option to have your printed circuit boards, metal – polyester domes or membrane circuits installed on your custom silicone keypads. This service will help reduce your sub-assembly time and make your component assembly seamless. We can also Sinstall glass into your custom silicone keypads. We use high quality silicone-based adhesives to permanently bond the glass in place.
At SiTECH, our mission is to ensure that you receive the finest service and the best possible product, every time. We have the resources, capabilities and technology to support your designs. We are a domestic (USA) supplier and do all of our custom silicone rubber production and decoration in-house. For more information about your silicone rubber keypad assembly needs, contact our staff at SiTECH.