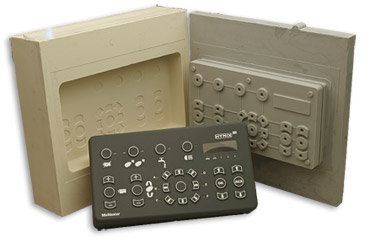 Independence Day celebrations have already wrapped up, but if you are in the market for a reliable silicone manufacturer, you can continue to celebrate our great nation. SiTech is proud to be headquartered in the United States, and we also manufacturer all of our silicone products right here at our state of the art facility in Coastal Virginia. Buying from a US based manufacturer isn't just patriotic, its smart. Especially if you are in need of durable military grade products and ITAR compliance.

SiTECH is proud to supply our military and other subcontractors with durable silicone products, especially those in need of ITAR compliant components. Our custom silicone keypads are fully ITAR compliant. Even though silicone keypads are not specifically listed on the United States Munitions List (USML), they are required to be ITAR compliant if they are being used on a USML system. If your company is ITAR compliant, then do not risk endangering it by using foreign components.
Our products will keep you out of trouble with violations regarding ITAR compliance and they are also hassle-free because of their legendary durability and low cost. You can rest assured that your silicone products are as tough as the military itself. Just like our armed forces, SiTech's products are dependable and won't quit on you. Our company is built with a patriotic spirit that believes that American manufacturing should lead the way in the silicone parts industry. Whether you need a custom keypad, or other silicone component, we have what it takes to deliver quality products down to the most detailed specifications.
Silicone Technology Corp. is headquartered in Newport News, Virginia. Custom keypads are just one of the many products manufactured by Silicone Technology Corp. We use a unique injection molding process with Dow and GE Silicones. This combination of technology and quality offers you a competitive domestic supplier of custom keypads and other silicone rubber products. If you are in need of a US based silicone manufacturer, then put SiTech at the top of your list! Call us today at 757-887-8488 to find out how easy it is to partner with SiTECH!