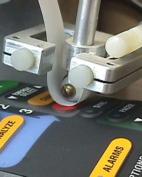 Have you ever been to a museum to see a famous painting? Maybe you've seen the Mona-Lisa, or Starry Night with your own two eyes and wondered – "how they keep these historic paintings so well preserved?". With such important masterpieces at stake, it is crucial to ensure that paintings such as these are very well preserved. However, paintings aren't the only masterpieces worth preserving – protective coatings are used in a wide variety of applications in order to preserve and extend the life of certain products. As you look through your home, your furniture, the paint on your walls, and your appliances are all likely built with a protective coating as the finishing touch. This is because any well-made product will be designed with longevity in mind, and silicone ley pads are no different. There are a number of different finishes for your new keypad, each with unique features depending on the keypad application:
Bonding
A bonding system is specifically designed for applications that require keypad adhesion to another surface. The bonding coating solves the issue of bonding rubber to polyester – this process can be difficult and costly without the use of a bonding coating. A simple thin bonding coating makes adhesion easy, allowing you to avoid any costly mechanical adhesion processes.
Abrasion Resistant
Have you ever used a worn keypad on a remote control, or perhaps a computer keyboard? It may have become unreadable because extended use had worn away the keys. That is why abrasion resistant coating systems are an important finishing touch for any silicone keypad.  The beauty of an abrasion resistant coating is the longevity that your new silicone keypad will have; even with significant use, you can expect a consistent look and feel without degradation throughout the life of your new product.
Chemical
Are you planning on using your new keypad in the medical, laboratory instrumentation, or automotive industries? Well if so, you will want to consider the use of a chemical resistant coating system. Usually, a chemical spill onto a silicone product can destroy a keypad, causing you to spend money to replace the entire product – but with a chemical resistant coating, your keypad will maintain its flexibility and resilience, even under harsh chemical conditions.
Conductive
Each keypad is made for a unique and specific application and that is why it is important to consider the use of a conductive silicone coating. Conductive coatings offer a cross-link bond to silicone keypad products.  When you need to ensure that your keypads are functioning at their peak, in each and every situation, a conductive coating is a must.
Regardless of what industry or application your next silicone keypad will be used in, SiTECH has the experience and know-how to make your silicone keypad perfect, down to the last detail. Give us a call today at 757- 887- 8488 to find out how our protective coating can help create the perfect keypad for any situation.