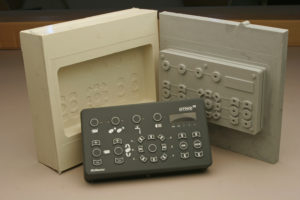 No matter what you're purchasing, it's always good to know your options. Not all products are created equal. Usually they are differentiated by their build quality which includes the design, manufacturing process, and materials used. In order to set your product up for success, its best to start with quality raw materials. Already, many engineers and manufacturers have discovered the advantages of using silicone rubber to create amazing new products. Silicone has grown in popularity due to its versatility, resistance to change, reliability, and durability. However, even within the silicone family there are options to choose from. At the most basic level, silicone can be divided into two major categories: solid and liquid.
Solid
The difference between solid and liquid silicone rubber is due to its makeup at a chemical level. Solid silicone contains polymers with a high molecular weight and relatively long polymer chains. Typically, solid silicone is produced in bars and other solid shapes. These bars are then able to be molded into the desired product. Solid silicone is a simple solution for many basic products, but it is limited compared to the versatility and customization of liquid silicone.
Liquid
On the other hand, Liquid silicone rubber contains polymers of lower molecular weight and shorter chains. One of the main advantages of liquid silicone is its versatility. In liquid form, this silicone is a blank canvas that can be customized with color options and additives. For example, if you need a chemical resistant product, SiTECH can synthesize liquid silicone with chemical resistant additives in order to create a highly resilient product. In many ways, silicone rubber is only limited by the imagination of the engineer or product designer. No matter what industry you are creating a product for, liquid silicone can be customized and molded to accomplish the task.
Silicone Technology Corp. is headquartered in Newport News, Virginia. We are proud to supply silicone products to many industries including medical, automotive, military, and so many more. We use a unique liquid injection molding process with Dow and GE Silicones. This combination of technology and quality offers you a competitive domestic supplier of custom keypads and other silicone rubber products. If you want to find out more about what makes SiTECH different from our competitors, give us a call today at 757-887-8488.