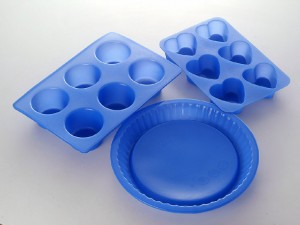 Silicone rubber is used in many kitchen products. It can be anything from cooking utensils to potholders to baking pans.
Just as it is essential that you use all of the ingredients recommended in a recipe when you cook or bake something, it's important to use the right materials when developing and manufacturing a product. Create a recipe for success, then follow and implement the plan you created.
Key Ingredient
When designing a product that requires a keypad or a gasket, consider the use of liquid silicone rubber as your main ingredient, which we believe will raise the standard of your product. Don't be afraid to try something different. Keep in mind that all great food dishes come into existence by someone experimenting with different ingredients to create something new.
Make sure you use a domestic supplier such as SiTECH, ensuring that your part is made in the U.S., so that you are receiving parts made with the highest quality silicone available and no fillers are being added.
Recipe for Success
Next, create your recipe, beginning with the silicone rubber application, and using your knowledge of the industry in which you work and some hard work to go along with it, then begin to prepare the remaining ingredients in your product. You must believe in yourself and sometimes take a risk to accomplish great things. Just as the preparation is extremely important to homemade bread or a cake rising properly, so is the preparation in the development of a new product.
At SiTECH, we can help you prevent a recipe for disaster. We can guide you in finding the answers to your technical questions. There are many things to consider, such as the different silicone durometers, or firmness, available; the color you choose; whether your rubber keypad may be backlit or have artwork printed on it. If your recipe includes adhesive layers, metal domes, clear inserts or light pipes, a membrane switch or PCB, send your requirements to SiTECH and we'll provide you with a completed keypad assembly. Contact Si-Tech today at 757-887-8488 or email us at Sales@SiTech-Corp.com.