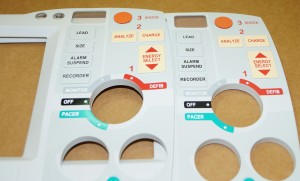 Silicone rubber keypads and components can be used for countless different applications. Whether your needs are in the industrial, medical, military or other industries, SiTECH is the choice for you. We manufacture keypads, seals, gaskets, display windows and other specialty silicone products. At SiTECH, we use only liquid molding machines on a closed loop system, with Dow and G.E. silicones that provide maximum quality at an affordable price. We offer many capabilities that are not well known that could help when designing a future project.
Advanced Capabilities
One major advantage you receive by choosing SiTECH as your silicone rubber manufacturer, that could help enhance your silicone rubber keypad or component with future designs is insert molding. SiTECH's unique process allows us to be able to make products that many manufacturers of silicone rubber  cannot achieve – two different lighting sources in one backlit key without transferring light, produce dead fronts, display windows and LEDs.
Silicone Rubber Molding Process
While you may be thinking that the capability for those features have been in use for a long time and that most silicone rubber manufacturers can produce those features, SiTECH uses an insert molding process that fully blocks the light from being able to transfer from one light source to another through the silicone keypad. Most manufacturers mold the part in all clear, then spray the part. They laser off the desired portions to leave a backlit part, allowing light to transfer through the clear silicone material in the keypad. SiTECH's insert molding process is achieved using a double-shot process; first to mold the clear insert for any combination of display windows, backlighting, dead fronts and LEDs. In a second shot, the clear insert is placed in the final mold and silicone is shot around the inserts in the desired color, leaving only the backlit portion, windows or LEDs in clear silicone, and the rest of the silicone rubber keypad or component in whatever the desired color is.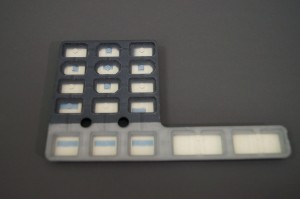 Silicone Product Decorations
Insert molding is not the only advantage to choosing SiTECH as your supplier of silicone rubber keypads and components. SiTECH uses only silicone-based inks to decorate silicone rubber and create graphics that don't wear or fade. That's because our inks are cross-linked—providing a permanent bond —before we apply our proprietary protective coating. We exceed the industry standard in durability, using Si-Coat I, which surpasses the standard acceptance criteria for the custom keypad and keyboard industry, by being more than 20 times more resistant to abrasion.
At SiTECH, we believe in a hands-on approach to manufacturing. That's why we make everything in-house. Our custom silicone keypads and custom components are created with state-of-the art technology, right here at our headquarters in Newport News, Virginia. We are fully ITAR compliant and are proud to serve the needs of our customers with the craftsmanship and quality of American professionals. Contact us today by either calling 1-757-887-8488 or emailing cs@sitech-corp.com.