Si Prime™ is a coating system specifically designed for bonding silicone rubber to a variety of different surfaces with common acrylic adhesives used in the membrane switch industry.
Si Prime™ offers the best solution to the intrinsic problem of bonding rubber to polyester switches for far less cost than mechanical means. A thin coating of Si Prime™ is added to the underside of a Silastikey silicone rubber array.
This coating serves as a bonding barrier between the silicone surface and an acrylic adhesive. When used in conjunction with any 3M™ 350 series Hi holding acrylic adhesive, Si Prime™ offers an outstanding high bond strength for elastomer keypad applications. Under independent lab test using ASTM standard D-3330, Si Prime™outperformed by more than two times the bonding capabilities of other silicone/acrylic adhesives.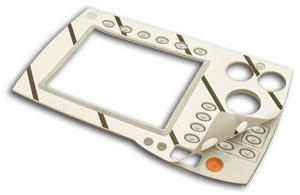 Si Prime offers:
Field proven (More than million units and different applications)
Highest silicone rubber to surface bonding
Bonding strength increase with time
Excellent resistance to slippage or flagging
Operating temperature tested to -40°C to 85°C
High humidity resistance
Good solvent resistance
Shelf life two years +
SiTECH Corp. brings together the technology, engineering expertise and innovative skills to model rubber keypads quickly and effectively from concept to final product. We offer the resources of an experienced engineering group that is both aggressive and committed to accelerating your product to market. When combining Si Prime™ with our proprietary screened silicone inks and Liquid Injection Molding, we offer you a unique set of features that will assure the right solution for your product requirements. Proven success in industries such as:
Military
Telecommunications
Medical devices
Computers
Laboratory instrumentation
Point of sales
Industrial equipment
Consumer electronics
Automotive
Aerospace
The ASTM D-3330 Test method provides a reference and comparison data for bonding strength. Measurements are ounces per inch pulling at 90 degree peel test.
SiTECH's mission is to insure you receive the finest service and the best possible product, every time.We have the resources, capabilities and technology to support your designs.