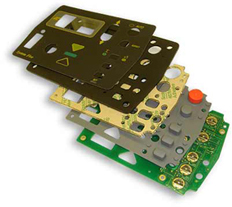 Keypads have a variety of uses, some that can be mission-critical to an industry such as the military or the medical industry. The keypad has to be designed accurately and needs to perform the function it was designed to do.  In addition, when dealing with military grade applications, the product must be ITAR compliant and all SiTECH products meet the standards.  There are a lot of key considerations to take into account when designing and manufacturing custom keypads to ensure the quality and safety of the product and the people who use them.
Security
The benefit of using a custom keypad is the peace of mind that it offers to the higher-ups. Whether the area hold secure information or only allow certain levels of personnel into the room, by having a custom rubber keypad for entry – you know that the room is secure. The keypad provides unique buttons that will allow a user to enter the right code with ease for access. The keypad provides a snap to ensure that the correct key code has been entered and decreases the amount of worry associated with incorrect codes or accidental entry.
Durability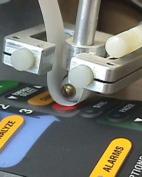 Whether in the military or medical field, having a keypad that is durable is essential. Different elements may affect the keypad or just simple wear and tear may make the keypad, less durable.  Si Coat™ provides a layer of abrasion resistant coating to your keypad to help protect the keypad from some of the roughest conditions. By adding this layer of coating, you are now able to protect your keypad throughout its life expectancy.
Custom Design
Your custom keypad is exactly that, custom. When designing your rubber keypad, it's important to consider all of the options you have available to you to make it exactly what you need. Not only does it need to function well, but it should be designed well. Determine what shapes, sizes and even what colors your keypad needs to be in order to perform its role. In addition, what about back lighting? Does the keypad need to have a backlight? What is the ultimate role of your keypad and how can the design of it fully perform as it is needed. Keep all of these questions in mind when discussing your keypad design.
Fortunately, here at SiTECH, our color technicians have years of experience and can provide you a high-quality product that can be recreated time and time again with no differences.