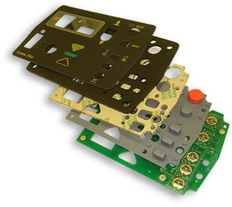 There is nothing quite like a custom fit. Whether it's an article of clothing, embroidering, color, or other unique options, a custom product just fits better. At SiTECH, we offer customization with one of the most versatile materials in manufacturing, silicone.  Over the last half century, silicone has replaced countless other materials because of its impermeability, strength, and resistance to chemicals. These properties, combined with creative design and engineering, make custom silicone molding the solution to many product problems.
From flexibility and resilience to color options, hardness options, we have whatever you need for your next silicone product. At SiTECH, our products are ITAR-compliant, which helps us provide products to support our military and other subcontractors and ensure that the product they need can withstand any and all circumstances. Molded silicone is battle tested and trusted by the military. The same qualities that make it ideal for the armed forces, also make it perfect for a large number of other industries, such as automotive, aerospace, medical and many more. We have got you covered!
We know that you will rely on your silicone products to be durable and strong. That is why SiTECH uses unique injection molding process with Dow and GE Silicones. This combination offers a state of the art solution to many of your silicone needs, regardless of industry. This reputation of quality is combined with many customizable features, like back-lit keys, printed circuit boards, metal domes, polyester domes or membrane circuits. We don't just want build another silicone keypad, we want to build a keypad that is designed and created for your unique application. We can't wait to work with you to create your next silicone molding project!
Silicone Technology Corp. is headquartered in Newport News, Virginia. Custom molded silicone keypads are just one of the many products manufactured by Silicone Technology Corp. We combine technology and quality to bring you a competitive domestic supplier of custom keypads and other silicone rubber products. If you want to hear more about how silicone molding can help create your next product, give us a call at 757-887-8488