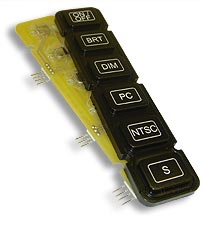 Silicone technology is used in many ways across a variety of industries. From aerospace to automotive, to agriculture, this material is becoming more and more common due to its unmatched versatility in creating durable products. Every one of these industries requires a different product to fit their dilemma, and silicone is often the go-to because of its overwhelming customizability. For this reason, companies have many options for its use when designing custom silicone keypads. Silicone's versatility means that it can be easily manipulated into a variety of molded keypads to add a personal touch to the form and function of a device.
Imagine the possibilities for functionality when keypads can be designed down to the minutest detail. Buttons on keypads are now able to form patterns in shape, color, size, and feedback given to the operator, giving a more dynamic user interface, which leads to higher productivity. With so many customizable options, here are some of the silicone key options that could be used for your business:
Key Shapes
You may not be able to teach old dogs new tricks, but silicone has given new shapes to the age-old material of rubber. No longer is your keypad confined to a black square with a symbol on it, silicone keypads have completely revolutionized the game, by allowing the customization of nearly any shape of key. Triangles for a certain function, octagons for another, with this level of customization, keypads are able to take on new designs like never before.
Colors
Can you recall in spy movies how that big button was used to eject a passenger or shoot a missile, the button that was only to be pressed in certain circumstances? It was almost always the color red. Society has programmed our brains with that the idea that the "red button" shouldn't be pressed under casual situations, so why not use this same idea with you new customer keypad? Silicone keys can be produced in nearly any color, which allows keys to be designed with a color scheme that corresponds to a purpose for each color.
Feedback
Everyone loves feedback – "great job out there" or maybe "you could improve in this a bit". Regardless of what the feedback is, it always gives us more information about something we have done; this way we aren't left guessing. Silicone keys have the same feature available, which allow feedback when the button is pressed. A distinctive click or an illuminated light could all be feedback. Knowing what has been pressed and what hasn't can make a big difference in keep operations safe and running smoothly.
Silicone keypads provide so many options for customization; in order to find the key solution that fits your exact business need, give SiTECH a call at 757-887-8488.