Liquid silicone injection molding may seem like it hasn't changed much over the years, but we at SiTECH continue to push the envelope in terms of what is capable. We manufacture a variety of silicone rubber products including keypads, gaskets, seals, display windows and various other silicone components. One area in which we continue to push the envelope is backlit rubber keypads and custom silicone inserts. We have developed methods to completely block the transference of light between keys, and even developed a method of blocking light between inserts within the same key. These methods help eliminate the need for the buyer to come up with unique ways of blocking the transference of light.
Our molding process here at SiTECH varies from the traditional method typically used when creating backlit keypads. We conduct our insert molding in a two or three shot process. Our two shot process includes molding the inserts in a clear silicone, and then inserting that piece into a final mold to be over molded. This process eliminates light transference between the keys and keypad unlike traditional backlit keypads. A traditional backlit keypad typically consists of being molded in all clear silicone, then being sprayed in the desired color coating, and then graphics are laser etched out. This method does nothing for light transference, as it allows light to travel from key to key due to the entire part being molded in clear. A traditional backlit keypad forces the buyer to come up with unique ways of blocking light, and can be costly.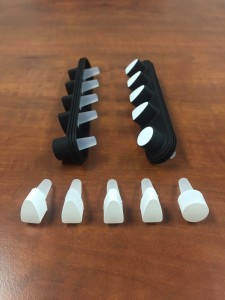 While blocking light transference from key to key is nice, we also have the ability to block light between multiple inserts within a single key. Our three shot process is very similar to the two shot process but has an extra step between insert molding and final molding. This extra step allows us to over mold multiple inserts together into an over molded insert that is then placed into the final mold for over molding. This allows the use of multiple light sources within one key. We typically use the three shot process for multiple inserts within a single key to ensure the over molded insert is correct before placing it into a final assembly. Our over molded inserts are tested for light transference using a high intensity LED light box prior to being inserted into the final mold. We also test each final component or keypad prior to shipping. If required, we can also test your backlit keypad on a customer-provided testing apparatus as different customers require different light intensities.
We are locally owned and operated, and manufacture all silicone components in-house. If you are interested in a custom backlit silicone keypad, or wish to know more about how SiTECH can help you, then please call us at: 757-887-8488 or use our contact form to request a quote today.