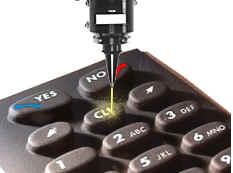 One of the most important components of a keypad is knowing what the buttons do. Accurate and readable labeling is critical to telling the user what the keys' functions are. Some choices in labeling custom silicone keypads include marking the button or labeling the plate surrounding the buttons. Let's take a look at some of the different options available in labeling silicone rubber keypads, and the advantages and disadvantages of each method.
Vinyl Stickers
Affixing a clear vinyl sticker with silk screen printing under the buttons or surrounding the full control panel plate is one option. It's inexpensive and versatile. The wording can be changed to suit the model design. In small quantities, the vinyl labels are easy to attach to the plating or control panels. Larger quantities can pose a problem with efficiency. Accuracy in placement is an issue for design specifications with strict guidelines, since vinyl labels can shift in moderate heat. They can also curl around the edges and peel away completely with time and wear. Small lettering can be difficult to read, depending on the font, font size and quality of workmanship.
Label Plate Engraving
Another choice is labeling the plate, rather than the silicone rubber keys themselves. The control panel can be engraved. This is a labor-intensive process that is much more expensive than any of the other choices. It is permanent, but has restrictions on lettering size and type, as well as placement. There are specific clearances and tolerances for lettering around the keypads. It can pose problems when the machinery is already on location or the engraving needs to be done on a large piece of equipment. Affixing an engraved label plate may be an option, but this can affect the aesthetics of the control panel. It also creates uneven surfaces and a chance for penetration around the attachment holes. This can cause problems in damp, dusty and wet environments.
Laser Marking
Labeling the silicone rubber buttons directly is an economical option. The use of small letters and fine detail are commonplace in laser marking. The technique is computer controlled, and can be done by the custom silicone keypad manufacturer during production. The silicone surface is labeled directly, so there's no logistical problem with labeling the control panel plating. It's performed on translucent or colored molded silicone rubber. The laser doesn't impact the integrity of the button, so it won't leak through or split in damp, dirty or hot conditions. Laser marking can also be done in large quantities to exact design specifications with words, logos and barcodes on a variety of flat, convex and concave silicone rubber shapes. Laser marking is frequently used for backlit rubber keypads, which illuminate. The light behind the button passes through, making the lettering legible and easy to read. Laser marking doesn't rub off or peel away with use, making it a durable option for labeling.
Ink Marking
Marking rubber keypad buttons with ink is another labeling option. It's cost-effective and can be reproduced in small, medium and high volumes. Depending on the manufacturer, the ink can be stamped or silk-screened. When non-silicone inks are used, the lettering is quick to fade and peel away. This can cause logistical issues for high-traffic rubber keypads, where the user can no longer see or interpret the function of specific buttons. At SiTECH, we use only silicone ink that creates a crosslink between the ink and keypad  to create colorfast, durable ink printing on molded silicone rubber that won't rub off or flake. Special coatings can also be added to increase chemical resistance. Not all makers of custom rubber keypads offer these ink marking durability options, so it's important to ask when considering this type of labeling.
At SiTECH, we offer laser printing and silicone ink printing and decoration for custom rubber keypads and components. For more information, contact our office at (757) 887-8488 or email cs@sitech-corp.com.