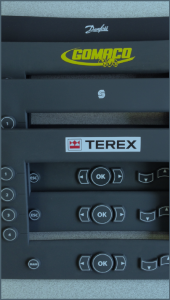 With the increasing amount of keypad materials, many of our customers ask us why we specialize in liquid silicone rubber. We have quite a few reasons why we prefer liquid silicone rubber over the various other materials, but here are some of the best:
Versatility:
Synthetic rubbers and especially silicone rubber make up approximately two-thirds of the worlds rubber supply. Liquid silicone rubber is one of the most versatile products available for use. This is due to its unique characteristics which allow it to act much differently from plastics. Silicone rubber has the capability to perform at high temperatures, as well as has the ability to regain its original shape and size after various acts compression, and stretching. Liquid silicone rubber has an excellent ability to snap back into its original form. The material can maintain its flexibility between temperatures ranging from -75 – 475 Degrees F. These material characteristics make silicone rubber a leading choice for manufacturers.
Cure Time:
Liquid silicone rubber, unlike many other thermoplastic elastomers has the capability for fast cure cycles. The faster cycle times allows for less cavities to be placed in tooling, thus dramatically decreasing the tooling costs. This allows for smaller quantity runs to be done without having a huge impact on production costs. The cure time and benefits thereof are great for smaller sized components and keypads and is one of the main reasons we specialize in liquid silicone rubber injection molding.
Decoration:
With the use of silicone based inks, a cross-link bond between the silicone component or keypad and the graphic artwork is formed. This drastically improves the wear resistance of graphics used on silicone parts. Here at Si-Tech, we have developed coatings that provide an added protection against abrasion and chemicals. Similarly to the silicone component itself, the ink requires heat for curing. This allows for a visual inspection of the product prior to curing the artwork and making it permanent. This allows for any minor adjustments that may need to be made due to the material being rubber.
At SiTECH, we have a vast knowledge and experience dealing with the liquid silicone rubber. If you have any questions or would like to discuss your silicone rubber needs please call us at 757-887-8488 or simply submit a quote online here.