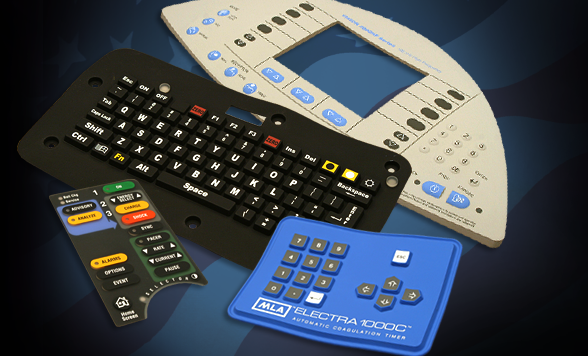 SiTECH can create a beautiful, durable keypad in record time. But without proper design it won't serve the intended purpose. Manufacturing a keypad is one thing, but designing a user-friendly keypad is something else. Here are SiTECH's tips for creating your best keypad.
Backlighting
A great keypad isn't only user-friendly in the day time, it's also highly useful in low-light situations. Using a proprietary laser marking system, SiTECH has perfected backlighting for all types of silicone keypads. If you need elaborate legends, key shapes and other complex key features, it can be economically produced using LaserEdge. When you need to create unique application specific keypads, SiTECH has you covered. This makes operation of the rubber keypads more visible and therefore more accurate. Backlit keypads can be used in a variety of machines and formats, from military keypad molding to medical devices to heavy machinery. They minimize the lead time from product design to manufacture because their graphics can be changed on the fly during the designing and manufacturing processes.
Key Design
When it comes to determining a design for your keypad, keep in mind that it's important to use contrasting colors for labeling basic keypad functions. It should be clear and easily understood. When considering form and function, keep these questions in mind:
Do you have enough buttons?
Are there too many buttons?
Are the buttons labeled properly?
Are the buttons spaced properly?
Rapid Prototyping
Sometimes creating the most user-friendly keypad is a matter of trial and error. Thankfully, rapid prototyping from SiTech allows designers to quickly see a prototype of their product before it goes to production. As you can imagine, the ability to see a model with 90% accuracy to the finished product would be a valuable asset when making product revisions. By examining prototypes and making changes, you can create the most user-friendly keypad by using rapid prototyping.
The last tip for creating a user-friendly keypad is to use an experienced manufacturer. Silicone Technology Corp. is headquartered in Newport News, Virginia. Custom keypads are just one of the many products manufactured by Silicone Technology Corp. We use a unique injection molding process with Dow and GE Silicones. This combination of technology and quality offers you a competitive domestic supplier of custom keypads and other silicone rubber products. Are you ready to turn your keypad design into a reality? Call SiTech today.