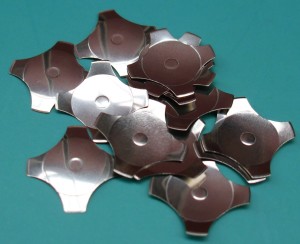 If your custom silicone keypad needs a tactile response, then metal domes are typically the best choice. Metal domes are made from stainless steel, and have various different coating options that affect the resistance. These domes, once used with a flex circuit, PCB (printed circuit board), or membrane switch become open tactile switches. Here at SiTech, we offer the installation of these domes using a metal dome array, which is a double-sided adhesive that holds the metal domes. These adhesive sheets can peel away from a liner and be used to precisely attach all of the domes to the circuit. There are four main types of metal domes, they include: Circuit, Four-Leg, Triangle and Oblong.
Circle metal domes look exactly like they sound, these are sometimes called round metal domes or circle tactile domes. Circle domes work great in applications that require a low profile switch under a membrane overlay. Circle domes can have longer life cycles than triangle domes, but relatively the same cost. The typical size of a circle dome is from 3mm to 20mm in diameter and the range of force is usually 100-60 gf.
The next type of dome is the four-leg metal dome, sometimes called cross metal dome. These domes were designed specifically for use where traces of positive and negatives can be designed under the dome on the same side of the circuit. Four-leg domes have a better clicking feel than circle and oblong domes. Circle domes typically have longer life cycles than triangle domes averaging approximately >= 1 million actuations. Four-leg domes are the tallest of the domes and are not to be used in low-profile applications. Generally Four-leg domes come in a 5mm-20mm range of size, and a 125-500 gf range of force.

Triangle domes are usually used in applications that require a good click feeling but are limited space wise. These domes are also used in applications that require large activation forces, as triangle domes can range up to 6,000 gf. Triangle domes typically also come with legs, which allow them to be mounted to the circuit board without the use of adhesive. This allows the domes to be used in high-temperature applications, where the adhesive would otherwise cause a unit to fail. Triangle domes typically have a 5mm-13mm range of size.
The last main type of dome is the Oblong metal dome, sometimes called oval or rectangle metal dome. The main application for oblong domes, is a low profile switch on a circuit board with little to no room that can allow for a long and narrow metal dome.  The dome size can vary between 3mm X 4mm up to 51 mm X 13.70mm with the force range between 100-500 gf.
More and more types of metal domes are available every year, even now backlighting options are available for circuit boards that have center mounted LED's. Metal dome manufacturers even provide custom built metal domes upon request. Here at SiTech we have experience using all types of metal domes, and dome custom dome arrays. If you are interested in having your custom silicone keypad quoted or simply wish to learn more about metal domes, give us a call at: 757-887-8488, or submit a quote online here.